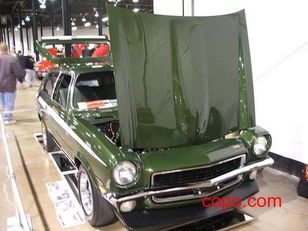 UPDATE: There are only three 1971 and four 1972 Stinger Vegas in our registry. This is out of a total production of 400. We also have older title histories on four additional Stingers, including 2 wagons, but have been able to determine if they still exist.
One of these is Jack Markham's Blue Stinger. It was the 2001 feature car on the Yenko.net site, but I have no contact information.
Please email me if you have or know someone who has an original Stinger Vega!

Mobile users: click on the "bars" icon at the top-left of the site to access Categories
​
Welcome!
Our primary goal is to provide information on vehicles ordered by Don Yenko's dealership under the COPO process, destined to become either Stinger Corvairs or Stinger Vegas.

Yenko Stinger Corvairs were ordered in White for the 1966 year, and in 1967 were in Blue and Red. There was one White Stinger ordered in 1969.
​
​Yenko Stinger Vegas were ordered and built in 1971 and 1972.
In 1972, the Stinger was also available as a Kammback, shown in the picture to the right.



---
Our Sponsor provides line of Stinger fiberglass hoods available for $699 each plus shipping. Available for Early Camaros, Novas and Chevelles. Contact Ed at zoomin69@gmail.com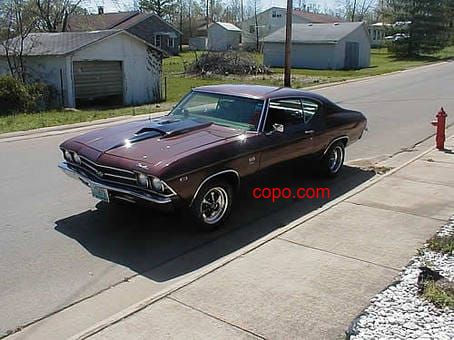 Yenko Stinger Archives is presented to you by Ed Cunneen
You can contact Ed at: zoomin69@gmail.com.

Special thanks to our contributors:
Bob Dunahugh, James Rice, Rick Loving, Bill Hadley, Charlie Doerge, Kasey Vandenberg, Warren and Michael LeVeque, John Gray, Pat Chrisman, Chris Shade, and Rocco Egizio.


​
History of the Yenko Stinger Corvair

​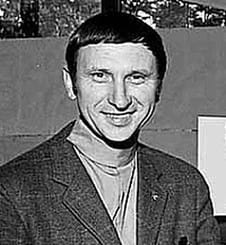 Don Yenko was a talented and gifted person. This site is dedicated to preserving the history he made in producing the Yenko Stingers.
---
CORVAIR STINGER HISTORY


In reviewing several Corvair Forums, it was noticed that the term "Yenko Stinger" is used quite loosely by some enthusiasts. With the influx of Clone's, Tributes, etc., entering the collector world, now might be a good time to review our definition of a Yenko Stinger.

Group 1 COPO's YS9700; YS001-120 (with a few exceptions)
For Starters, we know that Don Yenko requested a fleet order for one hundred 1966 Corsa Corvairs on October 28, 1965, requesting regular RPO's and also a request for special options not then available on Corvairs. This was one of the first uses of a COPO to order High Performance options.
This order was followed a year later with a fleet order of twenty-five 1967 Monza Corvairs. Eleven Marina Blue and fourteen Bolero Red cars were ordered. We believe Yenko had all of these Monza's at his dealership, evidenced by the fact that 25 oil pans and 25 sets of Cyclone headers were ordered and delivered to the Yenko dealership between April and May, 1967.
We believe YS-118-131 tags had initially been reserved for the Red Stingers, but only YS-118, YS-119 and YS-120 are known to exist.
We do not know the whereabouts of the remaining red cars, but with the exception of the DeLorenzo purchased YS-121 tag, the remaining tags have not surfaced. A theory is that the cars were shipped to Canada.


The 1967 Corvairs received a COPO 140 cubic inch engine. This engine option had been terminated at the end of the 1966 model year.

There was only one 1969 COPO Corvair ordered and built by Yenko, which is referred to as the Goodyear Stinger.

So in this category, there are a total of one hundred and fifteen Yenko Stingers ordered through the COPO program and sold by Yenko or his Network.

We have six additional tags that were distributed prior to the 1967 run see Group 2.

YS-107 was the first 1967 Yenko Stinger built.

Group 2 Non-COPO Stingers (YS102-YS106)

​
YS005 It appears that Jerry Thompson's Stinger may have been purchased and converted prior to the COPO production date.
Prototype 1966 Stinger built before the original run of COPO's received a tag.

Three Canadian Stingers were factory ordered in Canada without the COPO options, and converted into Stingers. This ordering deviation, requiring the cars to be ordered in Canada instead of by Yenko, was due to the high costs associated with importing cars into Canada.
It is believed that YS102 through YS104 ID's were initially reserved for these cars, we do not know if the cars and tags ever united. YS104 was converted at Yenko in Canonsburg, PA and did receive a tag.

YS106 was distributed so that one of the original 100 Stingers could be registered as a 1967. This ploy was not successful, and plate remains unused.


Group 3 (YS132 and higher)

We believe distribution of Serial Numbers (ID's) to racers, for the most part, started after the Stinger production run.
Many were mailed out or otherwise distributed, allowing individuals to race their cars in SCCA sanctioned events. Yenko may have also sold equipment for these cars from his catalog, but not the actual vehicle.
This SCCA requirement was abandoned in 1986, and having a Stinger serial number was no longer required.

Just a note that a racer could legitimately move their serial number plate from one car to another.
So it's a bit of a different animal than the Group 1 and 2 cars, where value is usually ascertained by a Stinger containing the VIN, Fisher Body Plate, Serial number and Yenko options as built.


Summary
Keep in mind that one may locate a Stinger with an ID Plate in Group 1 or 2, but the original car built associated with that ID may no longer exist, or vice-versa. Feel free to contact this site for verification of the VIN and associated ID.

There may be considerable difference in the estimated the value of a Stinger, depending on which category it is in. Also take into consideration the overall condition, provenance, race history, and documentation the Stinger may have.

​
November 12, 1965 Press Publication of Stinger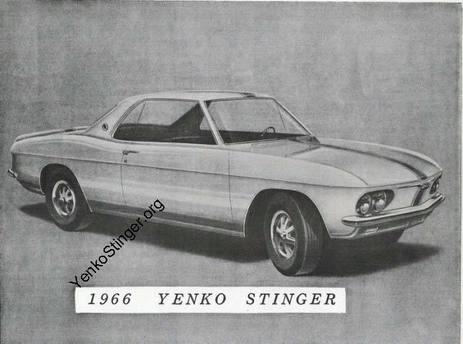 ---
Fiberglass sail panel, composed of an inner and outer layer. This panel was used to give the coupe an appearance of a sports car with only two front seats. It was not a structural component.
The decal is embossed aluminum, with a black Stinger Bee.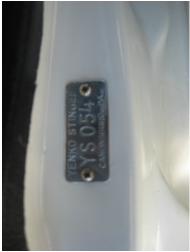 This is a picture of the Yenko Stinger Tag that was attached vertically to the driver's side A pillar (between the door hinges) by two screws.
---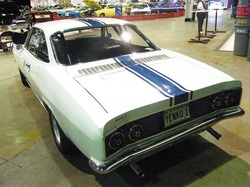 The fiberglass rear deck lid uses the factory hinges and latch. There are two flaps on the lid to aid in air flow. These are held open by magnets and metal supports. Note blue Tri-Stripes and tail pipes positioned through the rear grille panel.


---
COPO master Cylinder Brake Unit used. Cover originally was cadmium plated with a black hold down.
---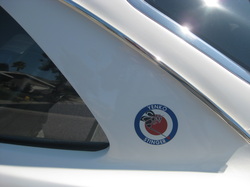 During 1965, Don Yenko was having his share of problems. His Corvette was being outclassed by the lighter, Ford powered Shelby products. He needed Chevrolet to build a more competitive car. But after many discussions with the Corporate office, nothing was forthcoming. Don then decided, if Carol Shelby could produce his own race car, so could he!

Don chose to build his race car using the rear-engine Corvair, which had undergone a suspension upgrade in 1965. He approached the SCCA with the idea, but they said sorry, the Corvair is a sedan, not a sports car. Undaunted, Don suggested that by removing the back seat, and making improvements in the engine, brakes and suspension, he would "re-manufacture" the Corvairs into Sports Cars and call them Stingers.

SCCA tentatively agreed to Don's request, but indicated in manufacturing this sports car, there needed to be 100 cars produced. One hundred was SCCA's minimum production requirement. And further, if Yenko was to compete in the 1966 season, these cars had to be completed before the 1966 race season started!

It was toward the end of November, 1965 when Don got the approval from SCCA. He had only one month to purchase and modify 100 cars. However, he was so determined to have a winning season, 100 Ermine white Chevy Corvair Corsa's ended up in his back lot in mid December with Yenko Serial Numbers on them!

Yenko ordered these 100 Corsa's through the Central office, with the following options:

1966
10737 - Corsa 2D sport coupe
3900CC - Ermine white
3F41AA - special suspension equip
3G81AA- positraction axle 3.55
3M20BB - 4 speed transmission
3N44AA - special steering equip
3758DA - black vinyl trim
9513A - positraction axle 3.89 **
9681E - independent brake unit

** Only 50 of the cars were ordered with this COPO Option.
3G81AA was not included when 9513A was ordered.
The remaining 50 had 3.55's.

The COPO 3.89 positraction differential was not available for any other Corvair in 1966, but it could be purchased over the counter at Chevrolet.

These 100 Corvairs were one of the first Chevrolet's to have a factory dual master Cylinder, which as an original Cadillac unit.



STINGER TREATMENT

Yenko's plan for the 1966 Stinger was to add fiberglass landau panels and a deck lid with an integral spoiler. Then he would remove all Corsa and Chevrolet emblems, filling the holes in with lead and plastic filler. These areas and parts were then painted Ermine white. To complete the exterior, a set of tri-stripes in blue would be added, along with 3 stinger decals. There appears to be a variation in the color of blue paint used in production, from medium blue to a darker blue. These were the United States international racing colors.

On the inside, the back seat would be removed, replaced with a plywood board and a mat. The interior emblems remained. On a number of cars, the glove box emblem was removed, and the Stinger embossed decal was applied. Gauges were installed at the customers request.

To dress up the engine compartment, headers were added, as well as a deep aluminum oil pan. This was finished off with new individual chrome air cleaners.

A number of the 100 COPO's never went through the entire conversion process. Jack Brenner, the original owner of YS-065, ordered his Stinger as a Stage II, but chose to add only the rear deck lid to his car. YS-022 received no exterior treatment, but the original owner put his money toward a Stage II engine.


SCCA

An SCCA representative actually came out to Yenko's dealership to look at the cars. After he left, Don had to wait 9 days before getting confirmation that his application was accepted.

But the Yenko team was not overjoyed upon receiving the news. Evidently, SCCA decided that the Stingers should be placed in Class D Production, which was dominated four years in a row by a Triumph TR-4A. He felt that It would be nearly impossible to win in that class with a Stinger.

However, Don went to work on a Stage III 220 horsepower version, while at the same time, put out a substantial effort to sell the remaining Stingers. One thing Don had going for him was the fact that SCCA would only allow serial numbered Stingers to compete in their events. In other words, they had to buy Don's cars if they wanted to race in a sanctioned SCCA event.

Jerry Thompson was the driver for the first race of the season at Marlboro in January, 1966, and the Stinger came within one second of the current pacesetter, a TR4.

After this race, Don asked Jerry Thompson to compete for Yenko with the new Stinger, and Jerry went on to to win the Division Championship that year. However, he placed only 5th in the Nationals. By 1967, Thompson had what it took to pull off the Class D National Championship, which was sealed at the Daytona ARRC.

Don worked with Central Chevrolet in Canada to supply 1966 Stingers for them. Paperwork shows at least three Stingers at the dealership, including Mo Carter's race car.

1967

Late in 1966, Don placed an order for 25 COPO 1967 Corvairs. This new batch, later reduced to fourteen cars, were built in February, 1967, had an added feature: they came in both the alternate approved U.S. racing colors: (Marina) blue with white Stripes, and in the new Canadian Racing Colors: (Bolero) red with white stripes. It is believed that Don ordered the red cars because he had a firm commitment from City Chevrolet in Ontario.


As a background, the FIA had mandated use of specific racing colors in international racing until Spring of 1968, when owners were permited to paint their cars in the livery of their sponsors. Although this rule was not mandated for National SCCA race events, many owners continue this tradition.


Since the Corsa model had been discontinued at the end of the 1966 model year, these new 1967 cars were ordered in Monza trim.

There was also an additional problem. Chevrolet had discontinued the 140 HP option for model year 1967. Yenko was extremely upset. He needed this optional engine to be competitive. Well, by the time these Stingers were built, they did have COPO 140 engines, as a favor from Ed Cole.



OPTIONS:

3900FF - Marina Blue (Bolero Red Code RR)
3F41AA - heavy duty suspension
3M20BC - four speed transmission
3N44AA - special steering
3758AA - black interior trim
9513A - 3:89 positraction differential
9551B - 140 special performance engine
9981A- wheel cover deletion



The new, simplified Monza dash lacked the Corsa tachometer and gauges, so Don ordered Stewart-Warner 970-E tachometers and installed them in the new cars. He had requested a COPO for the Corsa dash, but it was rejected.
He also made available oil pressure and temperature gauges and an ammeter gauge for an additional $79.00. Dual master cylinders became a standard option for Corvairs in 1967.

In total, Chevrolet eventually built 232 COPO 9551B 140 engines equipped with manual transmissions, and 47 140's with Powerglides. However, many were sold over the counter, or used for warranties.

1969
A very special Yenko Stinger (YS-9700) was made in 1969. It wasn't a Corsa or a Monza, but started out as a plain Jane model 500 coupe. It did not receive the classic rear window panels or fiberglass deck lid, or even the dark blue Tri-Stripes. But what it did receive was awesome! Yenko started out by installing a Stage IV engine, a special COPO for the 3.27:1 ring & pinion, S.C.C.A approved roll bar, heavy duty suspension, quick steering, and front and rear stabilizers. He then added a 24 gallon fuel tank, metallic sintered brakes, and front mounted oil cooler.

Goodyear Tire and Rubber Company had special ordered this car for some tire tests, and paid Yenko $5,021.65 for the privilege of taking ownership. Goodyear then welded steel scatter shields inside the wheel wells, an accessory gas tank, and went out to test tires.
---
​Intellectual and industrial copyright related to the Site
In accessing the YenkoStinger.org or COPO.com (Sites), Users are granted a restricted license of use thereof. This license grants Users a restricted and non-exclusive entitlement of use for private purposes only with regard the Site's content. In this respect, Users are granted only the right to display the site on a single-station screen. Pursuant to laws governing the rights of literary and artistic property (copyright) or related rights, the display and/or reproduction of all or a part of Site components are strictly prohibited outside the aforementioned stipulations. In this respect, subject to the rights granted by the present directions and in the absence of formal, written and prior authorization from YenkoStinger.org, any reproduction, copying, change and/or exploitation together with any usage of all or a part of Site content on any medium whatsoever, for whatever reason and in whatever form, is strictly prohibited. Any request for authorization should be requested in the Contact Us section. Any unauthorized use shall constitute an infringement of copyright punishable by applicable laws. Furthermore, all the brands mentioned on the Site are trademarks and as such are protected. No use of any one of these trademarks may be made without the prior, express and written consent of YenkoStinger.org, under pain of infringement of copyright. Moreover, no hypertext link to the Site and/or the pages contained therein may be made by the User on his or her own site without the express and written agreement of YenkoStinger.org. Any request for such authorization should be forwarded using the Contact Us section.
Bob Dunahugh with Donna Mae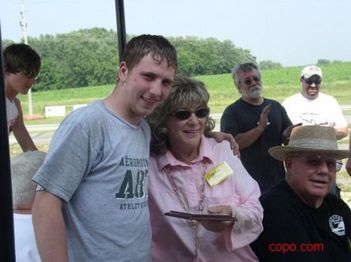 Ted Cunneen with Donna Mae after receiving First Place "THINK PINK" award.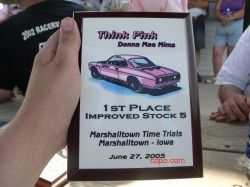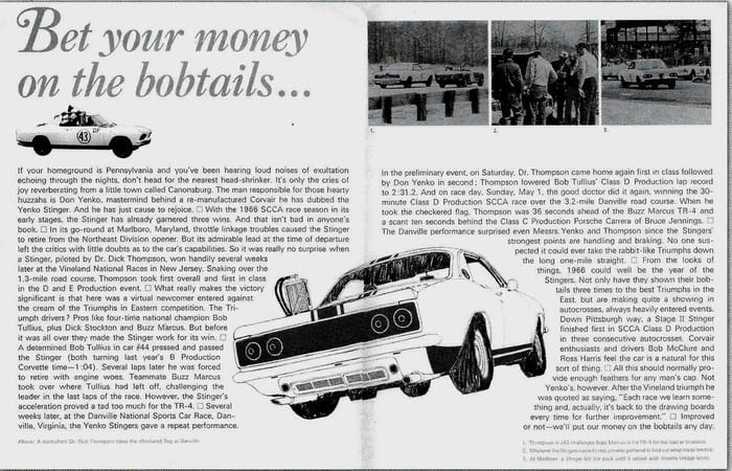 ​ THE BEGINNING
PROTOTYPE TO PRODUCTION

In the beginning, on September 26, 1965, Sterling Moss drove a Yenko-modified version of the yet to be named Stinger at the Upper Marlboro, Maryland race course.
His candid, but promising review of the Yenko-modified 1965 Corsa set the stage for the marque.

On November 7, 1965, Yenko was ready for a press day. He had taken a new 1966 Corsa from his lot, Stingerized it, and took it to Nelson Ledges. Don also paid for Jerry Thompson to bring down his "Serious Business" A-sedan, a 1965 Corvair 500, which was a real race car. Of course the Racer ate the new Corsa alive, as the Prototype was more show than go at that time.
---
Stinger Prototype built prior to the 100 Corsa COPO run on display at Yenko Dealership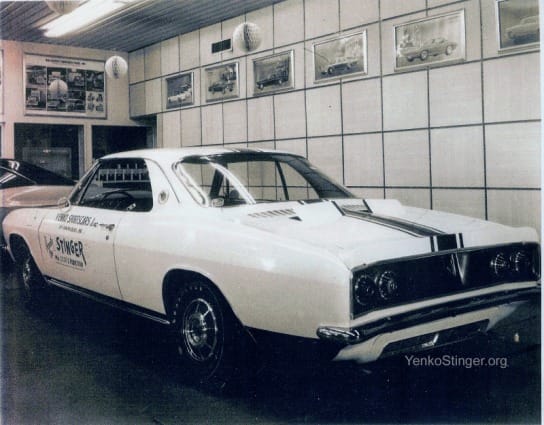 ​This is a picture of the Yenko Prototype displayed in the Yenko Dealership showroom. It it is the same car that was displayed November 28, 1965 during the Daytona ARRC runoffs. Note the larger Stinger Decal on the landau panel and tail pipes under rear valance panel. Sign said: Yenko Sportscars, Inc. - of Canonsburg, PA - Presents the Stinger - 1966 SCCA "D" Production.
---
​Article below mentions that five handmade Stingers were to be made. but we believe that the Prototype was the only one on display at the Alcoa Building on Wednesday, Thursday, and Friday, December 8-10, 1965. Reference: Pittsburgh Post Gazette. This was exactly the time frame that the first batch of the one hundred white Corsa's were arriving at the Yenko dealership.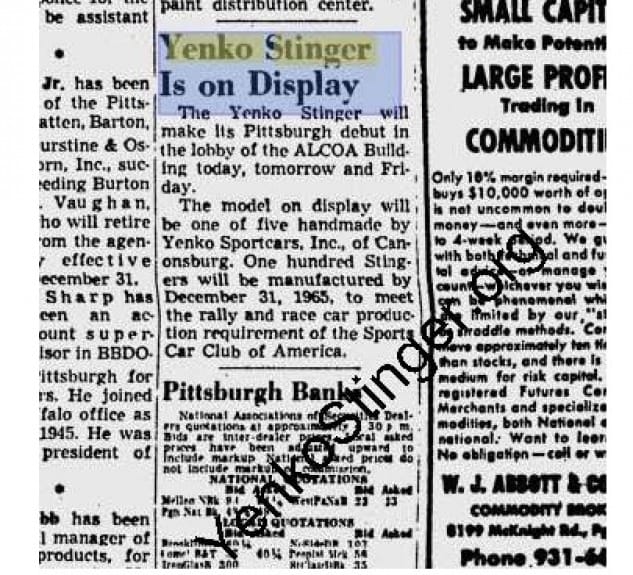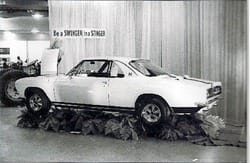 ​The Prototype also showed up at the Pittsburgh Auto Show on January 12, 1966. Notice the new mag shoes and straight-through exhaust.

Two Production Stinger racers had already made their first official appearance three days earlier at Marlboro.
---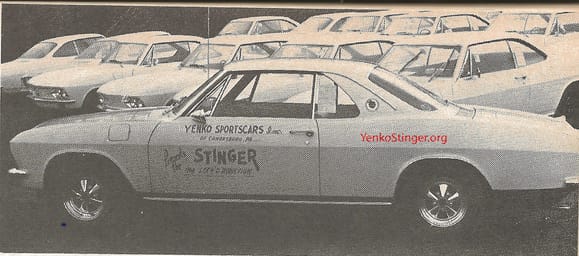 Notice Yenko window sticker in quarter window of the Prototype. Car still displays larger Stinger round decal, as the new emblems were not delivered until January 6th.

Picture courtesy of Complete Book of Engines No. 2. (1966)
---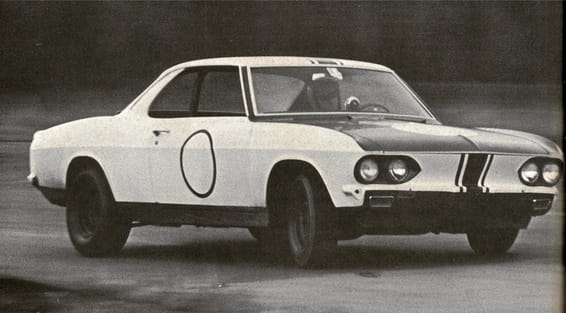 Don Yenko behind the wheel of one of his COPO Stingers at Nelson Ledges January 6, 1966. Notice no Bee emblems or numbers yet. Notice tachometer mounted on dash.

Picture courtesy of Complete Book of Engines No. 2. (1966)
---
​On January 6, 1966 Yenko took two of his new Stingers to Nelson Ledges for testing. They sported the new RST engines. One of these cars we believe would eventually end up being Dick Thompson's YS-085 Stinger. The other was YS-005.
Overall, the Stinger racked up a new unofficial Dp record of 57.0 seconds at the track.

On January 9, 1966, for the first SCCA race of the season, Don asked Donna Mae to drive one Stinger at Marlboro, and for Jerry Thompson to drive the other. YS-085 was piloted to a lap time of 1:38.5, only a second off Bob Tullius' TR4, before breaking a clutch just before the feature race.
Jerry piloted his Stinger YS-005 to a third place finish behind Tullis and Stockton in TR-4's. Not bad for a first outing! By this date, twenty Stingers had already been sold.

Don gave The YS-005 Stinger to Jerry for the remainder of the year, and ultimately, as a gift after the 1967 successful season, where he won the SCCA National Championship in "D" production.